All access passes to the CA Boom 4, West Coast Independent Design Show in Santa Monica, CA were granted to yours truly by her awesome brother and eco-friendly floor manufacturer gal. Here's a run down on some amazing stuff.
Pre-fab homes:
Pre-fab homes have been around for decades, particularly in the environmental design classroom so it's a bit surprising that there aren't that many in the nation today.
The OA-SYS (Open Architecture System) was first introduced to me in 2003, while leafing through my brother's design studio book. This system is a collaboration between the Austrian Architect Oskar Leo Kauffman and the modern timber construction company Berlinger Holzbau, based in Vorarlberg, Austria. I expected prefab homes to pop up everywhere, but I forgot to look, and I realized I forgot to look because they don't really exist in the numbers I expected (and was hoping). Fortunately, green friendly homes are getting attention, as seen in Sunday's NY Time article,
Factory Fresh: Interstately Homes.
The following companies were at CA Boom's Prefab Zone, which made its debut at last year's CA Boom.
1.)
Alchemy Architect
: "Alchemy Architect's mission is to make stimulating, engaging, and efficient design accessible and affordable for a wide audience."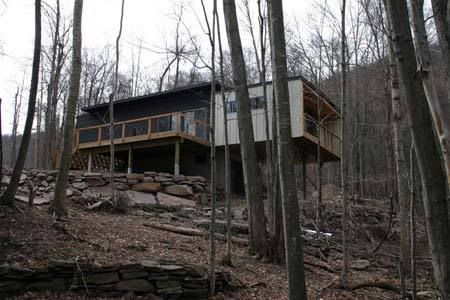 2.) CleverHomes: They have good stuff, but I don't want to go to the trouble of converting their flash images to jpgs. I actually like them less because of their excessive use of flash. Hmmm.. it's about the total package. Anyways, I think they are on view at the Pacific Design Center.
3.)
H-HAUS
: "H-Haus models are the ultimate showcase of intelligent home design for the 21st century. The architectirally modern home designs from H-Haus, LLC is introducing elegant living paired with eco-friendly designs designs adopted from European housing standards to the American Market.
4.)
Hive Modular
: "Attainable modern modular home sales and design."
5.)
Kithaus
: "KitHaus is about modularity. True modularity. The kind destined to revolutionize the conventional rules of prefab." (note: TRULY amazing. Check out their website for more pictures.)
6.)
LivingHomes
: "LivingHomes creates homes by world-class architects, which feature war, modern designs, functional amenities, and great price value." (Note: Check out the website... slightly TOO grandiose for me)
There were actually ten total Prefab homes, but I think the above gives a great idea of what is in the future. Prefab homes have not "made it" yet. I think it "made it" if something crazy like IKEA sells em happens (O PLEeeeeASE, for the love of the environment!)
I would have to spend another entire blog section on the AWESOME furniture at CA Boom 4! I just have to say that I am absolutely thrilled that there are so many eco-friendly products that combine high style and I am hoping that eco-friendly will lose its hippie status soon.